Among all other online poker sites, 9stacks is keeping its Glory intact. Each quality that an online poker site must-have can be seen here. From customer support to legalization, everything is carefully managed here. These are the reasons why players from India have a soft spot about 9stacks. Along with this, 9stacks has so many bonuses and coupons to offer the players. These 9stacks Promo Code as follows.
Deposition of 1500 Rupees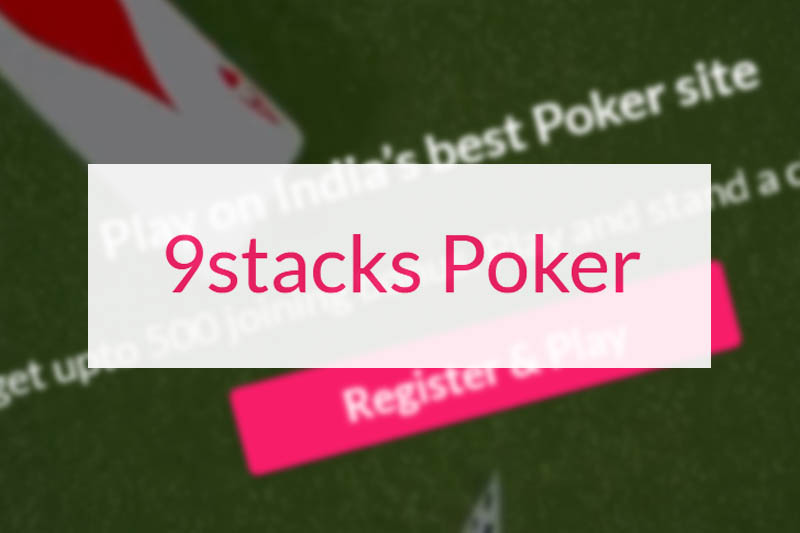 'BONUS1500' is the coupon code of this offer. In this offer, you have to deposit 1500 rupees to get 100 rupees off. This offer is regular. So in a week, you have access to 7 times. Not only 100 rupees, but you'll also be given an additional 30 stack points while unlocking the balance.
Hot Deal
'POCKET55' is the coupon code of this offer. To activate this offer, you have to put a minimum of 500 rupees in your account. Each time you deposit something, you'll get one chance to enter any tournament at free of cost.
Extra 100 Rupees
There is no promo code to activate this one. You just need to sign up with proper details of yours. While you do verify your KYC information, automatically 100 rupees will be added to your account.
Hot Deal of 2 Lakhs
To be a part of this offer, you need to visit their offer page first. The winning prize is almost 2 Lakhs. Almost 22 tournaments are there in 9stacks that allow you to win 2 Lakhs.
Roller Tournament
'ROLLER25K' is the code to activate this offer. The offer will be activated while you enter the code along with depositing 25000 rupees in the account. The interesting part is, you can use the codes multiple times to avail more opportunities. At once, if you activate the offer, you'll be given tickets to enter all tournaments for the week.
Sunday Extreme Offer
'XTREME1K' is the code to activate this offer. You need to deposit 1000 rupees at the 9stacks account and you'll be given the ticket with extra 275 rupees. Every Sunday, the offer is activated. The ticket can be used for one time only. The value of the ticket will expire after 15 days of buying it. 50stacks up points are needed to withdraw the money.
Mobikwik Flash Sale
You don't need any code to activate this offer. Just deposit the money with the Mobikwik wallet to get 50% cashback. But this offer is time-limited. Every Wednesday and Friday, you can activate this offer from 7 to 10 PM. But remember, you can't get a cashback of more than 100 rupees. Another offer from Mobikwik is, you can get 10% cashback during first and third transactions.
These are the gift codes and promo codes, offered by 9stacks. These codes will help you to get the money that applies to the Tournaments. From these codes, you can earn extra money that will act as a substitute for your real money deposition in tournaments. Wish you all the best.
You should
log in
to submit a review.